Tile trim is called by many names: Bullnose, Radius Cap, or Finish Trim. Tile trim is used in many areas; Step edges, Tile Baseboards, Wall edging, Shower Shelves, Shower Curbs.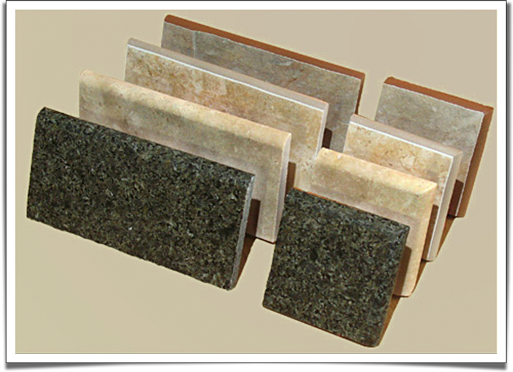 If the manufacturer doesn't offer a trim option in the style of tile you need, we can produce it for you.
Fabrication is the technical term for rounding the edge of the tile and polishing it to match the surface texture. This process works best for "through-body" porcelain, natural stones and granite. When completed, the core body of the tile becomes the rounded edge. We do not paint or color the rounded edge; we are limited to the color of the tile body.
We are happy to discuss the project and dimensions for you to correctly order the necessary amounts for your project. We can produce a sample on request.
Drawings of the project or pencil notations on the tile help communicate where bullnose should be made.
50% payment in advance. 10% additional materials need for the production process. All sales are final on this custom work.
Price per linear foot
Matte Finish: $5
Satin Finish: $6
Gloss Finish: $7
Black/Dark Granite Gloss: $8
Cutting Charge: $1 per cut
Free Pick-Up & Delivery in Hilo Vacinity
Minimum order of $80
DIscounts on orders over $350
Technical Details:
The fabrication process does not reduce the size of the tile.